Dental Veneers in Brampton
Are you dreaming of a perfect smile? A smile with perfectly aligned and spaced, pearly white teeth? This can be achieved in a single treatment with veneers. The porcelain layer of the thin shell adheres to the front of your teeth, correcting imperfections in colour, shape, and texture. Veneers are long-lasting and durable solutions to fixing imperfect teeth.
Some of the natural tooth enamel needs to be removed in order to cement the veneer into position and ensure a tight, natural-looking fit against the teeth. This process exposes the tooth, which means that if a veneer cracks or breaks, it must be repaired or replaced. Veneers are made from either composite resin or porcelain and are formed to resemble natural teeth both in shape and colour. Veneers are both durable and cosmetically appealing, but they do not last forever. With good care, veneers can last about ten years before needing replacement.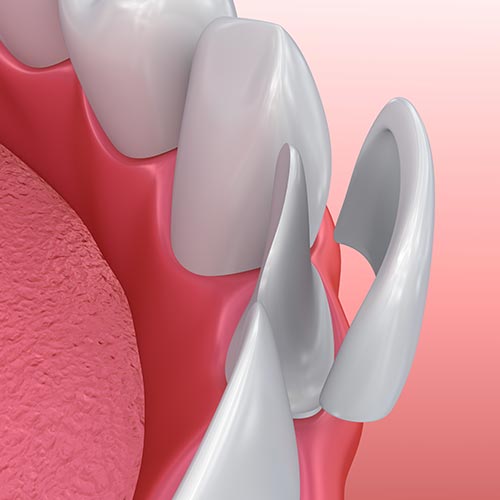 Veneers may be permanent, but they are not invincible. Extra care should be taken to clean around the gum line at the top of each veneer. Food particles and plaque are prone to collect around the edges, increasing the risk for gum disease and tooth decay. Regular dental hygiene appointments and oral exams are important for anyone with veneers.
When Was Your Last Visit?
Book Your Dental Appointment Today