Comprehensive &
New Patient Oral Exam
Oral Exams and New Patient Exams at South Brampton Dental
Your first visit to our Brampton dental office is our chance to get to know you, your dental history, and your goals for your oral health. We'll conduct a routine oral exam, along with a quick and painless cancer screening, and take digital and x-ray images of your teeth and mouth. During your initial visit, we will work with you to create a personalized care plan for your long-term oral health maintenance.
Compassionate Dental Care
Whether you're here for a routine hygiene appointment, cosmetic reasons, or a restorative procedure, we want to ensure you feel at ease throughout the process. Our dentists and dental hygienists are caring and approachable. We welcome any questions or requests you may have for us before or during your appointment.
Current Dental Technology
At South Brampton Dental, we use modern technology and dental tools to provide the best experience possible for our patients. During our first oral exam, we will use an intraoral camera to take digital images of your teeth and jaw. The process is quick, painless, and allows you to see the inside of your mouth as you've never seen it before. Your dentist will highlight any problem areas and explain to you what we are looking for, why, and how we can use preventative, diagnostic, or restorative tools and treatments to help.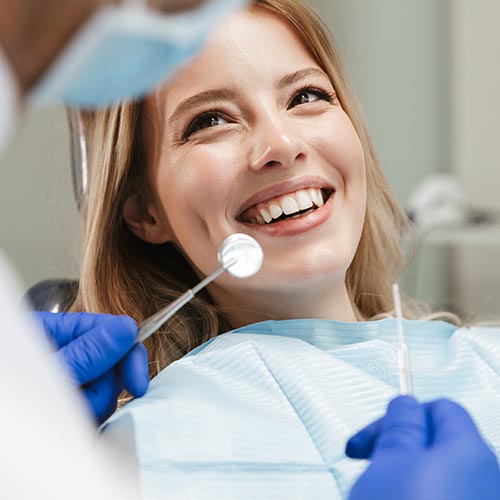 Dental Hygiene Appointments
Dental Hygiene Appointments in Brampton
It's important to maintain healthy teeth as a part of your overall well-being. Good oral hygiene begins at home and is strengthened by regular professional dental hygiene appointments. We recommend you visit us twice a year to keep tartar build-up to a minimum, which can prevent dental issues from arising. Our dental hygienists will also examine your mouth and teeth to watch for any irregularities or trouble-areas. We're here to keep you smiling!
The Importance of Dental Hygiene Appointments
Even with a thorough at-home oral care plan, toothbrushes have their limitations, and floss cannot remove all the plaque that hides between the teeth. Our oral hygiene specialists use modern dental instruments to gently remove plaque and tartar build-up from those stubborn areas. You'll leave our office with that deep clean feeling only a professional oral hygiene appointment can give.
What to Do Between Appointments
Our dental hygienists recommend that you brush your teeth twice a day with either a manual or electric toothbrush and floss daily to remove stubborn food particles and plaque from places your toothbrush cannot reach. If your teeth are prone to plaque build-up, our dental experts can show you specialized brushing and flossing techniques to help you get the best at-home clean possible. We may also recommend different dental tools depending on your needs and habits.
When Was Your Last Visit?
Book Your Dental Appointment Today